Hyman Bloom Chronology
By Kimberly Lamm
© 2002, National Academy of Design.
Reproduced with permission.
1913
Hyman Bloom is born Hyman Melamed in Brunoviski, Latvia, near the Lithuanian border. There is no exact record of his birthdate. When his father applied for Hyman's passport in 1920, he assigned the date of March 29. Based on his mother's recollection that Hyman was born on a Friday, the dates of April 11 and 18 have also been suggested. His father, Joseph, is a leather worker and his mother, Anna, a seamstress. They practice a strict Jewish Orthodox faith.
Bloom is the youngest of six children. About a year before his birth one of his brothers and his sister had died of influenza and his two eldest brothers, Samuel and Morris, then sixteen and fifteen years old, respec­tively, had immigrated to America. The rest of the family was supposed to follow but was impeded by the outbreak of World War I and the Russian Revolution.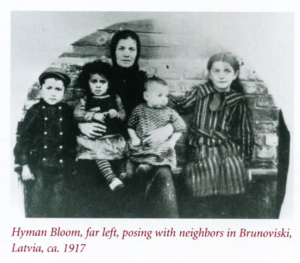 1920
Bloom immigrates to America with his parents and his brother Bernard, who was eleven or twelve years older than him. They join Samuel and Morris and, following their example, change the family name to Bloom. They all live together on Auburn Street in the West End sec­tion of Boston. Joseph works for his sons in the leather goods business. At home, the family speaks Yiddish. Because his mother is frequently ill, Bloom lives part of the time with an aunt and uncle. He attends the neighborhood public school, where he is an excellent student. From an early age he proves to be a remark­able draftsman and develops a strong interest in art.
1926      
Bloom attends Washington Junior High School in the West End. On the recommendation of Mary Cullen, his eighth-grade teacher, he receives a scholarship to attend special classes for talented students at the Boston Museum of Fine Arts, a program sponsored by the public school system. His teacher is Alma Lebrecht. The instruction consists mainly in drawing from plaster casts of Greek and Roman sculpture.  At the same time, Bloom enrolls in drawing classes taught by Harold K. Zimmerman (1905-1941) at the West End Community Center, a nearby settlement house on Blossom Street. This class stresses drawing from the imagination. After his bar mitzvah Bloom abandons his religious faith
1927     
Bloom attends Commerce High School on Avenue Louis Pasteur, a school he chose for its proximity to the Boston Museum of Fine Arts. Around this time, Bloom meets Jack Levine, who is taking courses with Zimmerman at a settlement house in Roxbury.
1929     
Impressed by the quality of Bloom's and Levine's drawings, Denman Waldo Ross (1853-1935), a painter, collector, and professor of fine arts at Harvard University, offers to subsidize them and to teach them painting. He rents a studio for them on Brattle Street in Cambridge and then on Dartmouth Street in Boston, and gives Bloom and Levine each a stipend of $12 a week. Bloom and Levine study with Zimmerman during the day. One night a week, each studies individually with Ross at his home.
1930     
In Zimmerman's class, Bloom meets Elizabeth Chase, who introduces him to avant-garde literature. Through her he meets the poets Lorraine Catheron and Lloyd Frankenburg and the latter's wife, the painter Loren Mclver.
c. 1931  
Bloom travels to New York with Zimmerman and Levine to visit the newly opened Museum of Modern Art and go to art galleries. He sees paintings by Georges Rouault, Chaim Soutine, Paul Klee, and Marc Chagall—"a clarifying experience." [Wight, Art Digest, April 1954, p. 10]
1933     
February:  The exhibition An Experiment in Art Teaching at the Fogg Art Museum, which features work by Zimmerman and his students, includes two sets of sketches by Bloom.
Bloom and Levine cease their instruction with Zimmerman and Ross, who stops supporting them. They share a studio with Betty Chase (who pays the rent), at 21 Kirkland Street in Boston's South End. The cold-water flat is also Bloom's living quarters.  Bloom joins the Public Works of Art Project, the first of the federally sponsored relief programs created to help artists during the Depression. The Project ends in late 1934.
1935
Bloom enrolls in the Massachusetts Works Progress Administration (WPA), where he is employed intermittently by the Easel Division until 1940, receiving at first $33 per week, later reduced to $22 due to cutbacks in federal funding.
1936
Jack Levine leaves the Kirkland Street studio.
c. 1937
Bloom has his first contact with Indian music through an RCA Victor album of Uday Shankar (the elder brother of Ravi Shankar and a legendary dancer-choreographer who popularized Indian music in Europe and the United States in the 1930s). Bloom, who already loved Armenian, Arabic, Greek, and especially Hebrew cantoral music, develops a passion for South Asian music, which will remain important to him throughout his life.
1938
Bloom paints The Stove (whereabouts unknown), "The first painting of which Bloom admits that it demonstrates the kernel of his own, rather than a learned and borrowed personality." [Freedberg, Perspectives, p. 46]
He begins to attend meetings of the Order of the Portal, a Rosicrucian order founded by Aleta Baker.
1939
SUMMER: Bloom rents a small cabin in the dunes on Cape Cod, near Provincetown. He works in isolation except for a few visits to Loren Mclver and Lloyd Frankenburg, who live nearby. His dissatisfaction with his work, the onset of the war, and the health problems of his friends Betty Chase and Lorraine Catheron con-tribute to a state of anxiety and depression. Fascinated with all metaphysical literature, Bloom reads The Secret Doctrine, a highly influential esoteric treatise published in 1888 by Russian occultist Helena P. Blavatsky, cofounder of the Theosophical Society. Back in Boston, he attends lectures at the Theosophical Society and at the Vedanta Center, which promotes teachings based on ancient Indian philosophy and religious beliefs.
FALL: Betty Chase commits suicide.
Bloom has a transcendent experience: "I had a convic­tion of immortality, of being part of something perma­nent and ever-changing, of metamorphosis as the nature of being. Everything was intensely beautiful, and I had a sense of love for all living things that was greater than I had ever had before."  Thompson, p. 28]
 1941      
Bloom is declared 4F—unfit for military service— and is not drafted.
Dorothy Miller, curator at the Museum of Modern Art, visits Bloom's studio at the recommendation of Richard Morrison, head of the Massachusetts WPA. She recalled: "We rang the bell a great many times. And finally Hyman stuck his head out the second floor win­dow of this old house and said, 'What do you want?'" Eventually Bloom let her in. "All the pictures had their faces to the wall And he didn't want to turn any of them around. But he finally warmed up a little bit and he did show me I think, oh, perhaps three or four pic­tures. And they were awfully good pictures. They were those early synagogue pictures…. And there was a Christmas tree picture." [Oral history interview tran­script, Archives of American Art, p. 47]
1942     
February:  Thirteen paintings by Bloom are included in Americans 1942: 18 Artists from 9 States, at the Museum of Modern Art, curated by Dorothy Miller, Unlike the other artists in the exhibition, Bloom declined to make a statement for the catalogue.
The Museum of Modern Art purchases The Bride from the exhibition. Art historian and medieval scholar Millard Meiss buys a Synagogueand a red Christmas Tree  (whereabouts of both unknown).  Several New York dealers are interested in representing Bloom.
Around this time, Bloom meets Boston-born Armenian-American composer Alan Hovhaness (1911-2000), whose compositions were strongly influenced by Middle Eastern, especially Armenian,  music. Like Bloom, Hovhaness is interested in mysti cism and spiritualism. The two men meet frequently until Hovhaness moves to Seattle in 1963.
1943
February: Hyman Brown, producer of the horror radio show Inner Sanctum, offers Bloom a stipend of $80 a month for one year in exchange for paintings.
Bloom agrees but withdraws from the contract four months later and repays every cent to Brown.
Bloom visits the autopsy room at Boston's Kenmore Hospital with artist David Aronson and begins painting corpses.
The Museum of Modern Art purchases The Synagogue (fig. 23).
1944     
Bloom moves to 152A Huntington Avenue, Boston.
In the early 1940s, Bloom begins collecting colored, iridescent glass bottles and vases, which he finds "very instructive." [Letter to Mark Pagano, May 1947]
1945     
February: The Synagogue receives First Prize ($500) at an exhibition of Contemporary American Paintings at the Worcester Art Museum.
Bloom is represented by the Stuart Art Gallery, 455 Stuart Street, Boston. He receives a stipend of $80 a month.
November: First solo exhibition at the Stuart Art Gallery.
December: The Addison Gallery of American Art pur­chases Treasure Map (fig. 13).
Christmas Tree (Museum of Fine Arts, Boston) receives the Critic's Choice Award from the Cincinnati Museum of Art.
1946
Bloom's contract with the Stuart Art Gallery ends. Begins new contract with Durlacher Bros., 11 East 57th Street, New York. The director, Kirk Askew, offers Bloom $100 a month against future sales, with a 25 percent commission.
January: First solo exhibition in New York at Durlacher Bros. For fear of shocking visitors, Askew keeps Corpse of Man (fig. 29} in the back room. He consulted Bloom on the matter, who replied: "I really don't know what to say about not showing the Male Corpse in public. In a way it seems immoral, a concession to vulgarity, to give that picture special treatment; on the other hand I know the public penchant for overlooking everything once they can find an excuse to give way to cheap sensation" [Letter to Askew, January 1946] Reviewing the show for The Nation, Clement Greenberg contrasts the "curious quiet­ness" of Bloom's expressionism in paintings such as The Bride (fig. 27), Female Corpse, Front View (fig. 28), and Archaeological Treasure (fig. 32), to "the mere violence of feeling" exhibited in the other works. [January 26, 1946]
Smith College buys Younger few with Torah.
July: Trip to Vermont: "This place is near Montpelier on top of a very high hill and surrounded by a magnifi­cent view of mountains and woods. This is the kind of country I like…." [Letter to Askew, July 12, 1946]
1947
The Synagogue  and Chandelier are included in the opening exhibition of The Jewish Museum in New York.
Thinking of moving to New York, Bloom goes there to look for a studio. He can't find one and decides to stay in Boston.
1948
March: Second solo exhibition at Durlacher Bros. "The reactions to the exhibition are just what you would expect" Askew writes to Bloom. "They fall into three groups. Number one is the intense admirers who look long and lovingly. Group number two admires the quality of the painting but finds the psychological impli­cations somewhat doubtful.  And then there is a fine large group number three which perfectly simply and plainly hates them." [Letter to Bloom, April 7, 1948]
The brothers Hyman and Seymour Swetzoff open a gallery of prints and drawings on Huntington Avenue, Boston (in 1953 it moves to Newbury Street), where they sell Bloom's sketches and small drawings. The artist occasionally exchanges them for prints by Odilon Redon and Rodolphe Bresdin.
March 25:  Bloom participates in a demonstration against the Boston Institute of Modern Art, which, to declare its independence from the New York Museum of Modern Art, has changed its name to Institute of Contemporary Art. The Institute's publication of a con­servative manifesto against international modernism prompts Bloom, Levine, Zerbe, Aronson, Kupferman, and a few other Boston artists to form the Modern Art Group of Boston, which protests the Institute's "injuri­ous meddling in the affairs of creative artists." [Dissent: The Issue of Modern Art in Boston, p. 67]
Sometime in the late 1940s, Bloom undergoes psychi­atric treatment with Dr. Denis Leigh, an English psy­chiatrist, to cure his stomach ulcers. Bloom develops an interest in psychoanalysis and continues therapy in the 1950s with Dr. Clemens Benda, who agrees to receive artworks in exchange for treatment.
1949
February: Boris Mirski organizes the first retrospec­tive of Bloom's work, at his gallery, 166 Newbury Street, Boston.  Art historian Sydney Freedberg writes a positive review for Art News: "On the basis of what he has achieved already we may judge [Hyman Bloom] a painter of the first importance within his generation." [February 1949, p. 52]
March: Bloom is awarded a Guggenheim Fellowship for "Creative Work in Painting" ($2,500). James Soby, James J. Sweeney, and Alfred Barr had written letters of recommendation.
Fall: On Sydney Freedberg's recommendation, Bloom is hired by the art department at Wellesley College, where he will teach until 1951. According to the college records, he teaches "Composition" and "The Imaginative Method in Painting." In fact, Bloom recalled, they only worked on drawing. The goal of his teaching was to "turn verbalization into pictorial form."
1950    
January: Elaine de Kooning's essay, "Hyman Bloom Paints a Picture," is published in Art News. Bloom is selected by Alfred Frankfurter to represent the U.S. at the Venice Biennale, together with Willem de Kooning, Lee Gatch, Arshile Gorky, Rico Lebrun, John Marin, and Jackson Pollock. He receives a grant from the National Academy of Arts and Letters.
Female Corpse, Back View (fig. 6), which has been chosen by James Johnson Sweeney for the Virginia Museum's 1950 Biennial Exhibition of American Painting in Richmond, is described by Art Digest edi­tor Peyton Boswell as a "monstrosity of sick thinking." [May 15, 1950, p. 5]
1951
February 16:  Bloom's father dies. Thomas B. Hess reproduces Archaeological Treasure (fig. 32) and The Stone (1947; whereabouts unknown) in his landmark survey Abstract Painting: Background and American Phase.
Bloom is appointed "Fogg Museum Fellow in Painting and Drawing" and "Lecturer on Fine Arts" at Harvard University. He teaches "Composition" and "Advanced Composition" until 1953. The writer John Updike is one of his students.
Bloom makes his first print, the etching Prehistoric Fish.
1952      
Bloom teaches painting privately. Among his students are Nina Bohlen, a Radcliffe student who attends his drawing class at Harvard, and Ellen Sinclair.
1953  
March:  Bloom receives the "Academy Award in Art" from the American Academy of Arts and Letters. Josef Albers, chairman of the Yale University Art Department, invites Bloom to Yale as a Visiting Artist. Bloom declines because of his upcoming exhibition. He moves to 320 Marlborough Street, Boston.
1954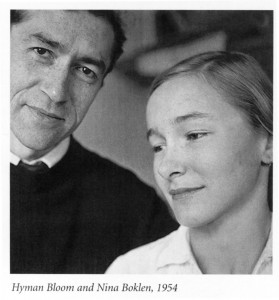 March: Exhibition at Durlacher Bros., Bloom's first show in six years.
At Swetzoff Gallery, Bloom meets Jerry Goldberg, a businessman originally from the West End, who becomes a friend and patron. The two men meet reg­ularly for lunch on Saturday until Goldberg's death in 1965. Goldberg provides Bloom with a regular stipend in exchange for drawings.
The Whitney Museum purchases The Anatomist and its related drawing, Autopsy (fig. 38).
April: Apparition of Danger (fig. 34) is featured on the cover of Art News. Thomas Hess's review presents Bloom as "one of the outstanding painters of his gener­ation."
April 24: Bloom participates in an experiment on the effects of LSD on creative activity under the supervi­sion of psychiatrists Max Rinkel and Clemens E. Benda. He calls the experiment "an eye-opener."
September 29:  Bloom marries Nina Bohlen. First trip to Lubec, a small fishing village on the northeastern coast of Maine, where he will return on and off for fifteen years. The couple spends one week there. "Bloom hated it." Bohlen recalled.
April:  Bloom's first museum retrospective is organized by the Institute of Contemporary Art, Boston. It travels to the Albright Art Gallery, Buffalo; the M.H. de Young Museum, San Francisco; and the Whitney Museum of American Art in New York. At the Albright Gallery, the Trustees demand the removal of the corpse paintings from the exhibition for reasons of obscenity.
1955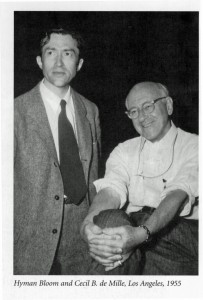 January 19: Bloom's mother dies.
April:  Bloom is invited to serve on the jury for the exhibition Artists of Oregon at the Portland Art Museum. After five days in Portland, he travels with Nina Bohlen to San Francisco, Los Angeles, and San Diego. With an introduction from Frederic Wight, the curator of the Boston Institute of Contemporary Art, they meet Vincent Price and director Cecil B. de Mille.   "It was a wonderful trip. The red carpet was rolled out everywhere and life was one gay round through Portland, San Francisco and Los Angeles. …A few high spots: the scenery around Portland, the climate around Los Angeles, and shaking hands with Cecil de Mille beside a Vista Vision camera" [Letter to Askew, May 25, 1955]. On the way home, they stop over in Chicago. Bloom moves his studio to Dartmouth Street, Boston.
Summer: Trip to Lubec. Bloom begins drawing fish skeletons.
Around this time Bloom meets Dr. A. Stone Freedberg, a professor at Harvard Medical School, who becomes and will remain to this day his doctor, friend, and ardent supporter.
1957     
Bloom and Nina Bohlen separate.
November:  Exhibition of Bloom's drawings organized by The Currier Art Gallery, Manchester, New Hampshire, travels to The Museum of Art, Rhode Island School of Design, Providence, and the Wadsworth Atheneum, Hartford, Connecticut.
1958     
Bloom moves to 235 Beacon Street, Boston. His stu­dio is on Boylston Street. For about the next ten years, he concentrates on drawing and produces very few paintings.
 1959    
Bloom is awarded a $10,000 Ford Foundation Fellowship.
April: Bloom is included in Four Boston Masters at the Boston Museum of Fine Arts, together with John Singleton Copley, Washington Allston, and Maurice Prendergast.
Bloom moves his studio to 1 Winchester Street, Brookline, Massachusetts.
1960
October: Two-man exhibition, Francis Bacon— Hyman Bloom, at The Art Galleries, University of California at Los Angeles.
With James A. Rubin, an enthusiast of Indian music, Bloom founds the PanOrient Arts Foundation, devot­ed to the collecting, recording, and study of South Indian classical music. Rubin travels regularly to India to record concerts and performances. As a trustee of the foundation, Bloom enjoys "unlimited access to the collection of recordings."
1961      
December 7: Bloom and Nina Bohlen divorce. (He travels to Alabama to get a twenty-four-hour divorce.)
1962     
Bloom begins making large charcoal drawings of trees based on photographs he takes in the woods of Lubec (fig. 15, 50-52).
1965     
August: Jerry Goldberg dies of cancer at the age of 53.
1968
Durlacher Bros, closes. Terry Dintenfass Gallery, 18 East 67th Street, New York, begins representing Bloom exclusively.
April: The Drawings of Hyman Bloom, organized by Marvin Sadik for the University of Connecticut Museum of Art at Storrs, travels to the San Francisco Museum of Art, the Whitney Museum of American Art, and the Boston University School of Fine and Applied Arts Gallery.
1971    
November: Exhibition of drawings at Terry Dintenfass Gallery, Bloom's first gallery show in New York since 1954.
Bloom moves to 1426 Cambridge Street, Cambridge.
1972     
Bloom travels to India with Nina Bohlen and James Rubin. Despite Bloom's interest in Indian culture, this is the only time he goes there; his chronic stomach ulcers make traveling difficult for him.
The American Academy of Arts and Letters purchases Mortal Parts through its Hassam, Speicher, Betts, and Symons Purchase Fund and donates it to the Mead Art Museum, Amherst College.
Bloom moves his studio to 237 Hampshire Street, Cambridge, above the restaurant Legal Sea Foods. A mural-size photograph of one of his fish drawings decorate the restaurant's dining room.
1974     
Bloom is elected to the American Academy of Arts and Letters.
1975     
April: Exhibition at Terry Dintenfass Gallery
1978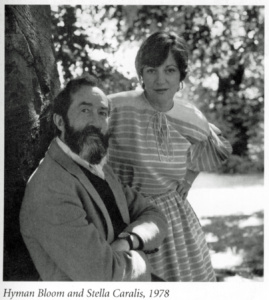 July 20: Bloom marries Stella Caralis, whom he had first met in 1956 through Jerry Goldberg.
1980     
January 16:  A fire at Legal Sea Foods Restaurant destroys Bloom's studio. Because Stella Bloom had seen the fire in a dream a few days before, they had moved most of the paintings out. The fire destroyed Hyman's books, papers, and a few drawings.
1983     
June: Kennedy Galleries, 730 Fifth Avenue, New York, begins to represent Bloom's work. Bloom and Stella buy a house in Nashua, New Hampshire.
1984     
Bloom is elected to the National Academy of Design. He resumes his summer trips to Lubec until 1986
1991     
James Rubin dies. The collection of almost one thou­sand tapes he recorded with the PanOrient Arts Foundation is given to the Archive of World Music at the Eda Kuhn Loeb Music Library, Harvard University.
1992     
January: Bloom's first museum exhibition in twenty-four years, Hyman Bloom: Paintings and Drawings, at The Art Gallery, University of New Hampshire.
1994    
March: Trip to Arizona with Stella. They travel to Scottsdale, Tucson, Sodona, and Phoenix
1996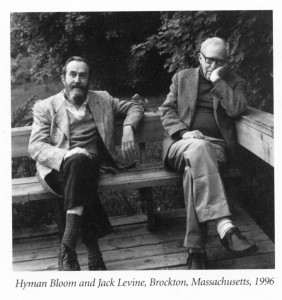 April:The Spirits of Hyman Bloom: Sixty Years of Painting and Drawing is shown at the Fuller Museum of Art, Brockton, Massachusetts.
1997
October: Three-week trip to Europe with Stella. They travel to Athens, Salonika, Zurich, and Colmar (to see Matthias Griinewald's IsenheimAltarpiece).
1999     
Bloom becomes a full member of the National Academy of Design when his drawing Landscape #4 (fig. 51) enters the Academy's collection.
Bloom is awarded the Thomas R. Proctor Prize ($2,000) for Jew with Torah at the 176th Annual Exhibition of the National Academy of Design.
2002  
Bloom builds a new studio next to his house in Nashua
2009   
Aug. 18th, Bloom's dear friend, Dr. A. Stone Freedberg dies at the age of 101. Bloom attends the funeral on Aug. 21st.
Sunday,  Aug. 23rd. Bloom is hospitalized.
Wednesday, August 26. Bloom's heartrate becomes very irregular and he dies that morning.  Jack Levine learns of Bloom's death and immediately heads to Nashua, NH.
Burial is at the Vilno Cemetery in West Roxbury.
2010
2013
Alpha Gallery Hyman Bloom Exhibition, May 5 – June 6, 2012